About LEARN: Network Infrastructure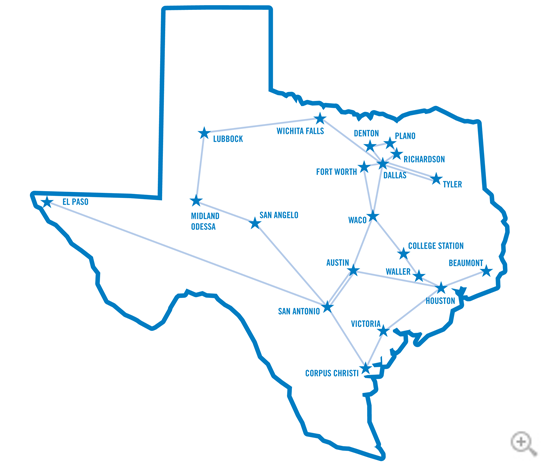 In collaboration with the public and private sector, LEARN's network spans over 3,200 miles across Texas. LEARN is built on dense wavelength division multiplexing (DWDM) optical technology. This technology provides the capability to transport multiple high capacity signals over a shared optical fiber by using the different color wavelengths of laser light. DWDM is state-of-the-art technology that is very scalable and permits LEARN to leverage the initial investment by adding additional capacity at marginal costs.
LEARN is built on agreements with the private sector that provide the long term use of optical dark fibers and/or long term leases of optical wavelength capacity. When dark fiber is conveyed via an indefeasible right to use (IRU) agreement, LEARN provides the infrastructure to "light" the fiber and can add additional capacity, as needed. In wavelength capacity agreements, the service provider provides the infrastructure and bandwidth under the terms and conditions of the agreement.
Membership & Network Services
Each of the member institutions of LEARN pays $20,000 per year in dues, which funds the general administration of LEARN. Members are entitled to appoint an individual to the Board of Directors and to acquire network services from LEARN at member rates. Network services are enabled based on the needs of individual members and collaborations among our members. Unlike the membership dues, network services are funded by the members who consume the services. Network service rates are set at levels to enable and sustain current and future network requirements. Network services include:
Layer 1 Transport Services Between LEARN Points-of-Presence (POP),
Switched Layer 2 MPLS Services,
Routed Layer 3 Services,
Connection Gateways to the Internet2 National Research and Education Network,
Colocation Services at LEARN Facilities,
Commodity Internet Services, and
Peering and Caching Services.
LEARN has received a Service Provider Identification Number (SPIN) with the Universal Service Administration Company. Acquiring a SPIN number permits our school, library, and rural health customers to receive significant discounts through the Universal Services Fund.
The Board and the staff are committed to ensuring LEARN remains a customer focused organization. Enhancing our portfolio of services is a cornerstone of the strategic priorities, which are guiding our current initiatives. There is a broad consensus among our members that continuing to expand the scope of services, which are available from LEARN, creates operational efficiencies, provides additional options for customers, supports collaboration, and enhances the overall value of LEARN.